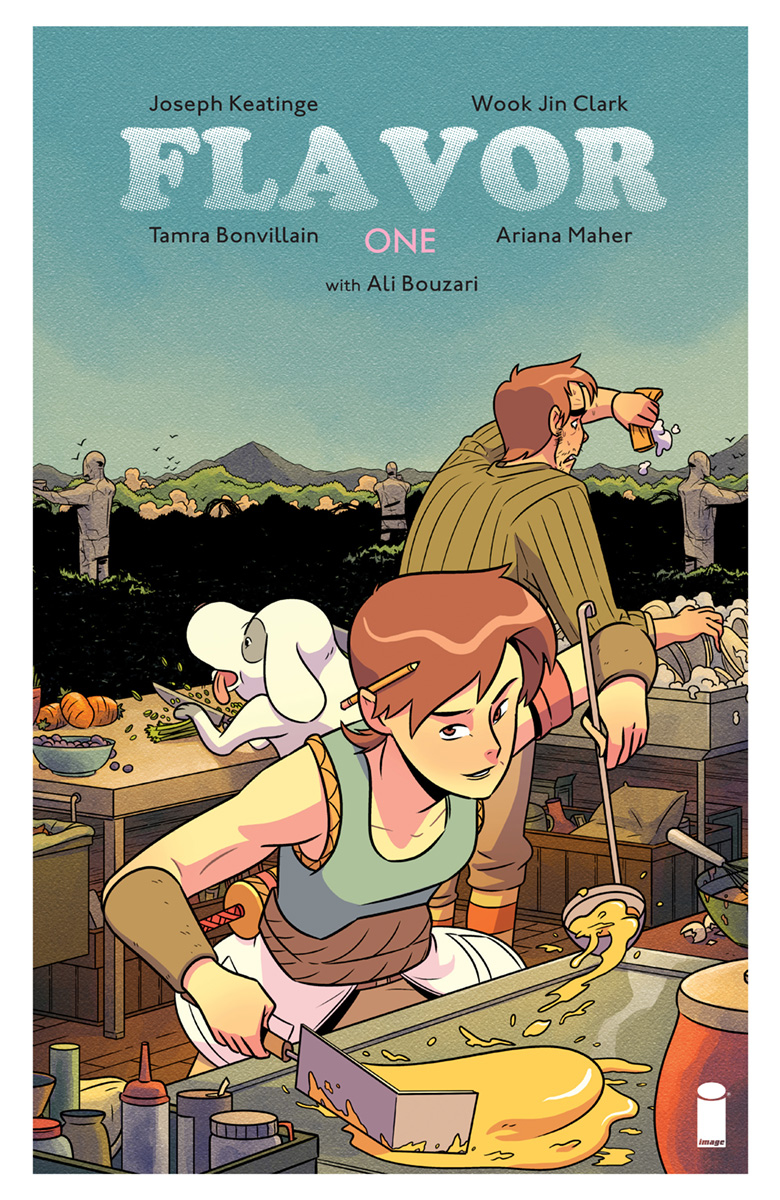 Flavor #1
Writer: Joseph Keatinge
Artist: Wook Jin Clark
Colorist: Tamnra Bonvillain
Letterer: Ariana Maher
SYNOPSIS:
Within a strange walled city, an unlicensed chef discovers a mystery that threatens to end it all. Join JOSEPH KEATINGE (GLORY, SHUTTER) and WOOK JIN CLARK (Adventure Time: The Flip Side) on this culinary epic adventure-FLAVOR-where chefs are the ultimate celebrity and food is the most valued commodity. The high-stakes competition of Hunger Games collides with the lush, MIYAZAKI-esque worldbuilding in this delectable new ongoing series featuring culinary consulting and bonus content by ALI BOUZARI, renowned food scientist and author of the IACP Award-winning cookbook Ingredient: Unveiling the Essential Elements of Food.
REVIEW:
May saw the release of Flavor, a brand new Image Comics title about Xoo, an enthusiastic young chef with a lot on her plate. Her parents are struggling with severe health issues and she's missed out on school. Now, to make things even worse, her uncle has been assigned as her new guardian. But she's not going to let that stop her chasing her true passion: cooking.
Flavor is nothing short of adorable. Between its animated characters, beautiful colours and a very cute dog, it has found its niche and settled in comfortably. The initial solicitation likened it to the work of Studio Ghibli films and the influence can be seen throughout. Not just on the visuals (where it can be seen to have made a major impact) but also on the characters themselves who seem like individuals conflicted between their own familial obligations and their own desires.
Wook Jin Clark's art fills every panel to the brim and crowd scenes are particularly full of life. Face are expressive and characters are bursting with attitude. Similarly, Joseph Keatinge's dialogue also makes Xoo just as feisty. Tamra Bonvillain's colours are stunning - made particularly clear with the credits in panels in the last few pages (which I particularly enjoyed).
Keatinge has created a world which the first issue has only really scraped the surface of. The city our hero inhabits is surrounded by a wall (thus isolating the city in a sort of Hunger Games meets Attack on Titan style) and what is beyond those walls is only briefly hinted at. But the juxtaposition of the two stories the book tells - the troubled Xoo and what's being kept out by that wall) can only mean an interesting few issues ahead.
7/10
To add this title to your subscription, click
here
.